Your budget is on track when the car stalls a week before end of the month. Now, you must choose between buying new clothes for the kids or getting the family's only source of transportation repaired so that you can continue to work and earn money. Such dilemma would not be necessary if you were to take advantage of short-term loans offered by Oasis Credit in Singapore.
Why Would You Need A Short Term Loan in the First Place?
Financial disasters are lurking at every turn. In fact, car repairs and home renovations consistently prove themselves as two central culprits to a balanced budget. It is during times when money is short and additional expenses are high that you need a loan fast to pay for everything.
Short-term loans are also useful when you want to go on vacation but lack the funds required to make it happen. Imagine yourself relaxing on the beach with all household expenses because of additional funding. We can bring to life your greatest dreams of spending time away from the hustle and bustle that is work.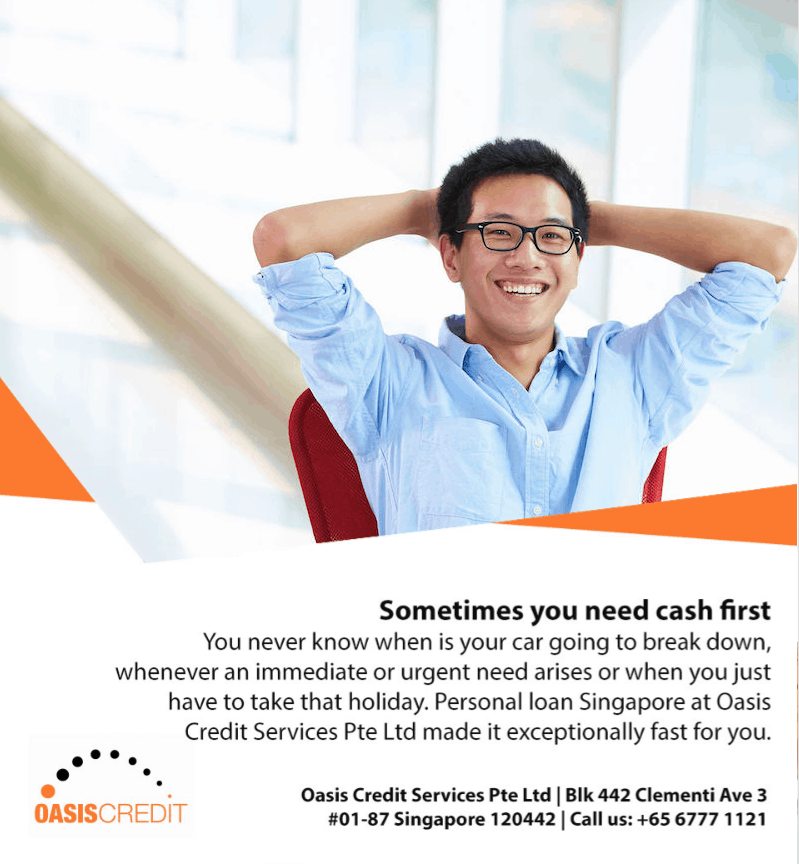 About Oasis Credit
We offers various types of loans to Singaporeans and foreigners that make up for shortages in the budget.
Our services include:
Personal loans
Short term loans
Debt consolidation loans
Credit Preservation loans
Short term loans are perfect for individuals searching for a temporary fix to financial problems since they come with easy repayment plans based on how often you are paid. Applicants compensated on a monthly basis will have loan repayment terms that are different from those borrowers who receive a payroll check every two weeks. Such flexibility in recompense ensures that customers are successful in their efforts to maintain good credibility.
Licensed Moneylender vs. Traditional Banks
Traditional banks typically take longer to approve applications for loans than short-term lenders. Ordinary financial institutions also require more collateral such as high income and good credit scores to consider granting loans to applicants. Borrowers still may not receive rapid funding even after weeks of an arduous approval process. Oasis Credit, on the other hand, has a short application process that only takes a few minutes to complete online.
The Application Process
Oasis Credit's application process begins online.
A phone bill with the applicant's name and address is usually enough to satisfy the residency requirement. Salaried candidates should provide their latest computerized paycheck stubs for the previous month of compensation from work. Individuals who are self-employed must furnish their ACRA Business Certificates and company rental agreements to establish business income. You must come into our office to provide verification documents and finalize the process to get your cash.
Are you still waiting?
You do not have to choose between one necessity to finance another need. Short term loans are the perfect solution to your money dilemma.
Apply for financing with Oasis Credit today and get the cash that you need now!